FRED PERRY
MOD MEETS BOLD EXHIBITION
01 JANUARY - 31 JANUARY 2011
FRED PERRY STORE
SURIA KLCC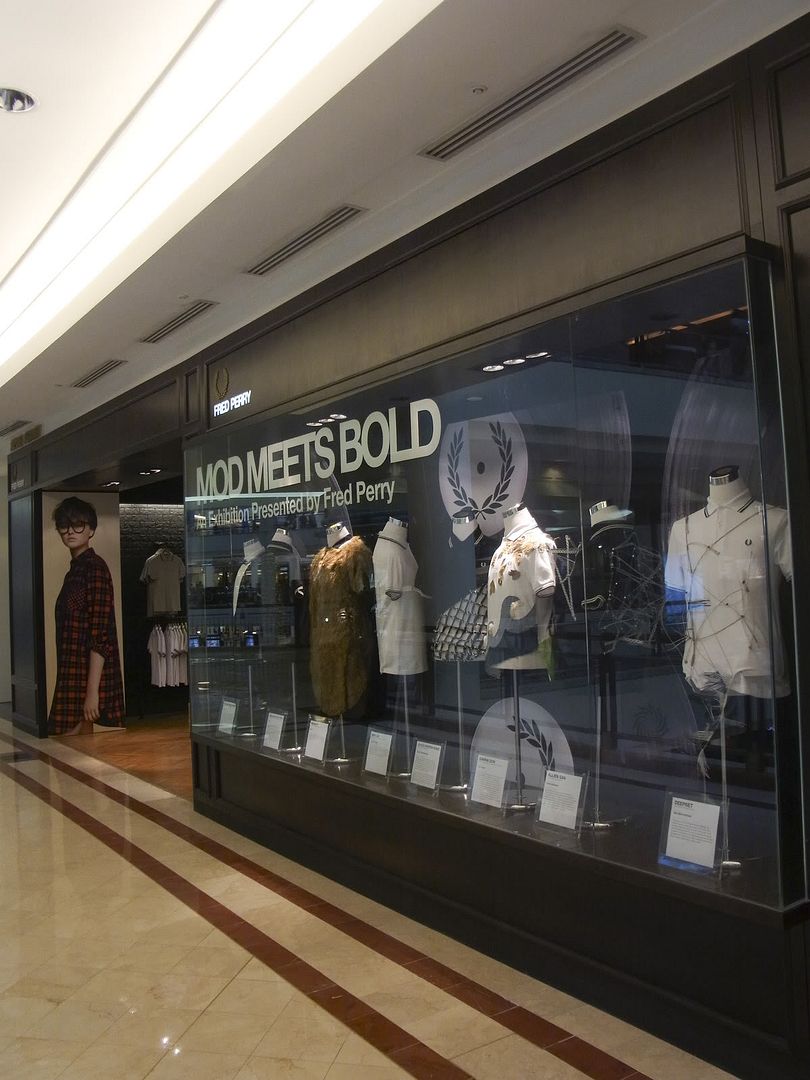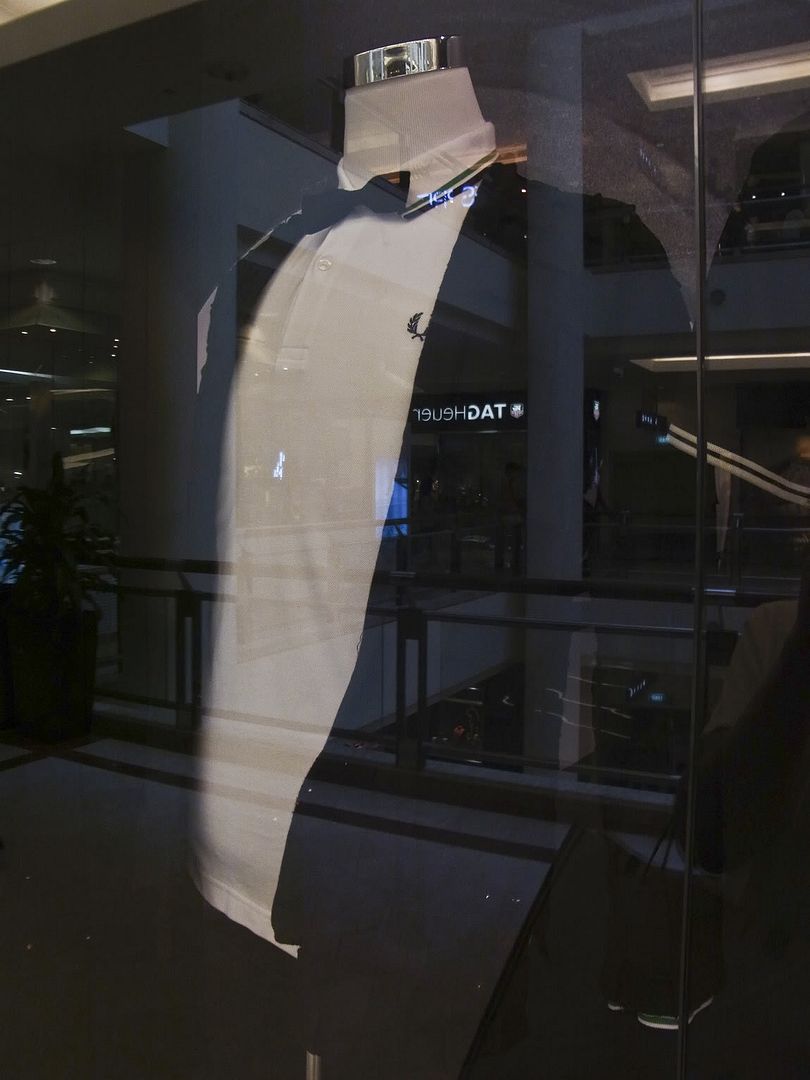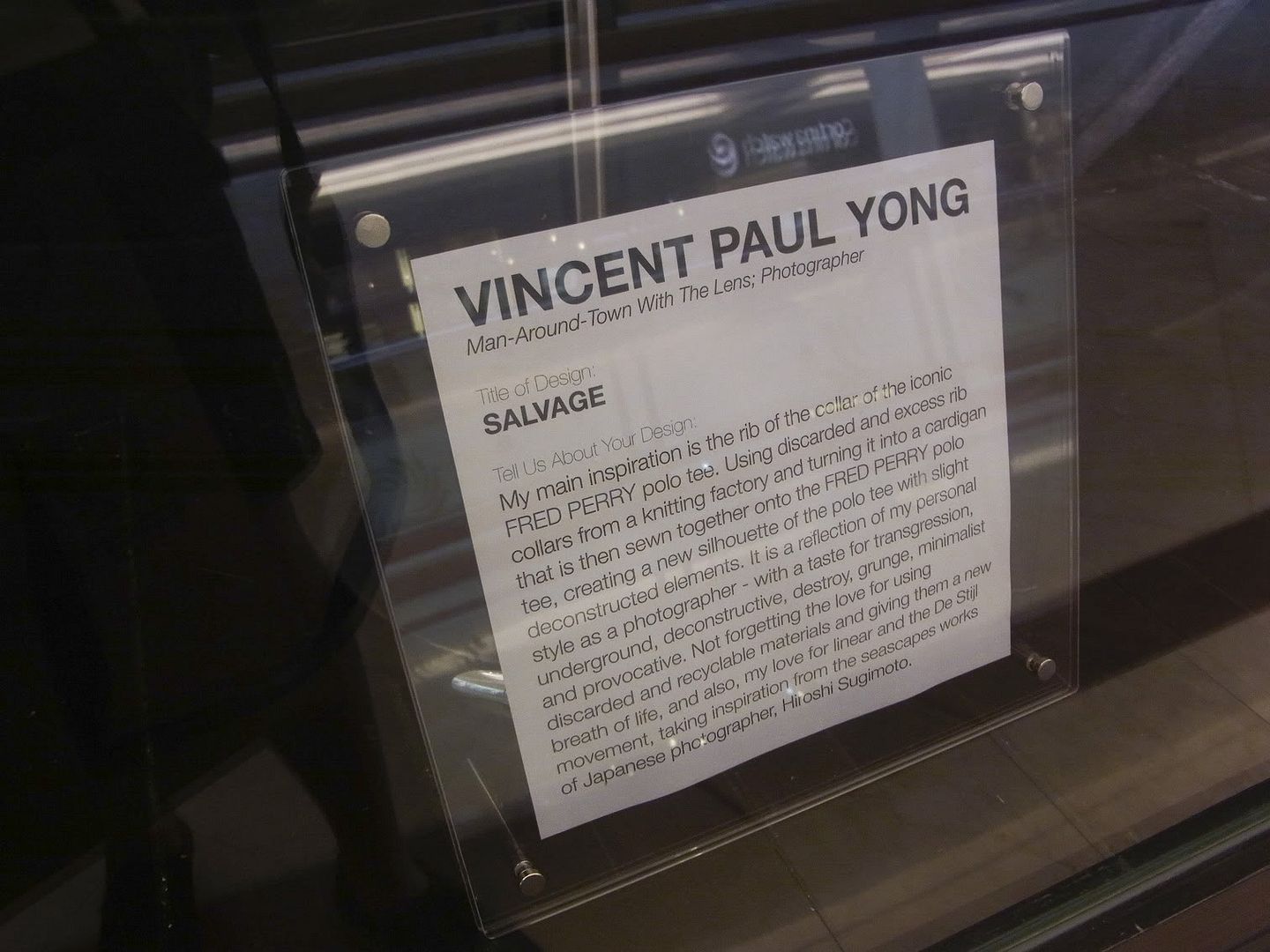 FRED PERRY
MOD MEETS BOLD EXHIBITION
01 JANUARY - 31 JANUARY 2011
FRED PERRY STORE
SURIA KLCC
MEDIA AND PRESS PREVIEW - 15TH DECEMBER 2010
"INVULNERABLE" -
ALLIEN GAN / FASHION STYLIST
IT IS IMMUNE TO ATTACK. THAT IS HOW I DEFINE MY DESIGN. FASHION IS INVULNERABLE. I AM ALWAYS INSPIRED BY THE CONSTRUCTION AND DECONSTRUCTION OF FASHION.
BOLD MEANS DARING, BEING DISTINCTIVE TO THE EYES. BIG. I ADDED METAL PIECES, WHICH I HAD CONSTRUCTED INTO A TRIANGULAR SHAPE FORMING AN ARMOUR TO THE SIMPLE POLO. NO MATTER HOW WE CONSTRUCT AND DECONSTRUCT THE DESIGN, WE STILL KEEP THE ORIGINAL YET NOT FORGETTING THE BOLDNESS OF THE DESIGN.
"IT IS YOURS"
DAVINA GOH / DANCER, ACTRESS, WRITER, CURRENTLY NEWSCASTER IN MYANMAR
HAVING MUCH RESPECT AND APPRECIATION FOR THE OUTDOORS, MY DESIGN REFLECTS THE FRAGILE STATE OF NATURE TODAY. LEAVES AND WAVES
BEING BLOWN IN OPPOSING DIRECTIONS IMPLY ENVIRONMENTAL CACOPHONY. EARTH, ONCE RICH AND FERTILE, NOW BEGINS TO LITERALLY LOOSE
GRIP ON VEGETATION. THE HANDS INTERACTION WITH THE TREE CAN EITHER BE SEEN AS GIVING OR TAKING, EACH EQUALLY EASY TO DO; IT BOILS
DOWN TO A PERCEPTION OF HUMAN PREROGATIVE. I DESIGNED MY TEE WITH AS MUCH RECYCLED MATERIAL AS POSSIBLE; THE WAVES ARE MADE OF
AN OLD DENIM BAG AND JEANS, THE TREE TRUNK IS MADE FROM A WOODEN BANGLE THAT BROKE A LONG TIME AGO, AND THE HAND IS MADE OF
THE PACKAGING THAT ORIGINALLY CAME WITH THIS POLO TEE. THE LEAVES ARE FROM VARIOUS PLANTS AND TREES IN MY FRONT YARD IN MYANMAR,
WHERE I AM CURRENTLY BASED. (YES, THIS POLO HAS TRAVELLED A FAIR BIT!)
"THE NEW FUSTIAN"
DEEPSET / POST ROCK BAND
THE PIECE IS THE COMBINATION OF TWO MATERIALS FROM DIFFERENT FIELD TO COMPLIMENT FASHION AND MUSIC. THE MATERIALS REFLECT THE REALITY ON WHICH BOTH
(FASHION AND MUSIC) NEED EACH OTHER IN ORDER TO BECOME SOMETHING ESSENTIAL. COMPOSITION OF GUITAR STRINGS FLOWING AROUND THE FABRIC REPRESENTS
THE DYNAMICS IN MUSIC ARRANGEMENT AND HOW PEOPLE LISTEN IN FASCINATION OF GREAT MUSIC.
"CHAIN REACTION"
JOYCE KIRSTEN WONG / EDITOR, BLOGGER
I DECIDED TO DO SOMETHING ROUGH AND USED HARD MATERIALS (METAL CHAINS) BECAUSE IT IS SUCH A CONTRAST WITH THE FRED PERRY POLO. JUST AS HOW FRED
PERRY MAY LOOK CONSERVATIVE, THE PERSON WEARING IT DOES NOT HAVE TO BE. IT IS ALL ABOUT CHARACTER. THE WAY ONE CARRIES HIM OR HERSELF IN IT AND
BELIEVING THAT THERE CAN BE BALANCE BETWEEN THE CONTRAST OF BEING ANGELIC AND EDGY.

I TORE THE POLO TEE INTO STRIPS AND METICULOUSLY TIED THEM TOGETHER TO CREATE A "NET" EFFECT. NO SEWING WAS REQUIRED, WHICH MADE IT SAFE FOR
FASTENING THE CHAIN ONTO THE MATERIAL. BY INTERTWINING THE CHAINS THROUGH THE "NET", THE METAL HELPS TO WEIGH THE STRIPS DOWN TO GIVE IT SHAPE.
"POCKET TO ME"
MIKI LEE / FASHION DESIGNER, LECTURER
MY CONCEPT IS TO HAVE FRED PERRY POLO TEE EASILY FOLDED INTO A SIZE OF A SMALL BAG, WHICH ALLOWS US TO EASILY CARRY IT AROUND WHEN WE ARE OUT TO
EXERCISE OR TRAVEL. NOT ONLY WILL THE POLO TEE NOT BE WRINKLED OR CRUSHED, IT HELPS TO KEEP THE POLO TEE CLEAN IN ITS OWN TRAVEL CASE. THIS IS NOT JUST
A POLO TEE, IT IS "POCKET TO ME"
"RAR!"
MUNKAO / ARTIST
I AM TRYIING TO PAY HOMAGE TO THE MEN AND WOMEN WHO HAVE SPENT THEIR LIVES TRYING TO BE BEARS. THEIR DEDICATION IS ADMIRABLE AND INSPIRING AND I HOPE
THAT I HAVE CAPTURED ALL THAT IN THIS ARTWORK.
"TAG+7"
TWILIGHT ACTION GIRL / A COLLECTIVE OF DJS
"TAG +7" REFERS TO HOW GUEST LISTS USUALLY WORK; YOU KNOW DAVID+5 GUESTS OR WHATEVER. THE NUMBER "7" REFERS TO THE NUMBER OF YEARS THAT TAG HAS
BEEN AROUND. THE NAMES FOUND ON THE "GUEST LIST" ON THE SHIRT ARE THE PEOPLE WHOM WE HAVE THE FORTUNE TO MEET AND BECOME FRIENDS WITH THROUGH
OUR 7 YEARS TOGETHER AS TAG. IN A WAY, IT IS A THANK-YOU TO THEM THOUGH SOME OF THEM DO NOT REALLY COME TO TAG NIGHTS ANYMORE. THEY HAVE CONTRIBUTED
AND ARE STILL PART OF THE SPIRIT THAT MADE OUT NIGHTS THE WAY THE WERE - WHICH WE HAVE TO SAY IS A BLOODY GOOD TIME :)
"SALVAGE"
VINCENT PAUL YONG / FASHION PHOTOGRAPHER
I AM USING THE RIB OF THE COLLAR OF THE ICONIC FRED PERRY POLO TEE AS THE MAIN INSPIRATION. USING DISCARDED AND EXCESS RIB COLLARS FROM A KNITTING
FACTORY AND TURNING IT INTO A CARDIGAN THAT IS THEN SEWN TOGETHER ONTO THE POLO, CREATING A NEW SILHOUETTE OF THE POLO TEE WITH A SLIGHT
DECONSTRUCTED ELEMENTS. IT IS A REFLECTION OF MY PERSONAL STYLE AS A PHOTOGRAPHER - WITH A TASTE OF TRANSGRESSION, UNDERGROUND, DECONSTRUCTIVE,
DESTROY, GRUNGE, MINIMALIST AND PROVOCATIVE. NOT FORGETTING THE LOVE FOR USING DISCARDED AND RECYCLABLE MATERIALS AND GIVING THEM A BREATH OF LIFE,
AND ALSO, MY LOVE FOR LINEAR, AND THE DE STIJL MOVEMENT, TAKING INSPIRATION FROM THE SEASCAPE WORKS OF JAPANESE PHOTOGRAPHER, HIROSHI SUGIMOTO.

IT IS NOTHING ANTI-FASHION, HOWEVER ANTI ESTABLISHMENT. IT IS ALSO A PLAY WITH TWO OF MY FAVOURITE TONES - BLACK AND WHITE.

CLICK HERE TO DOWNLOAD THE PRESS RELEASE